Overview
The Mokibo is the keyboard where each key has an embedded touch-pad. You will get all the convenience and gesture controls from your typical track-pad, but it's all done on the keyboard. Be one of the first few people in North America to own the Mokibo Keyboard - Black Edition. ** Every Mokibo Keyboard purchased comes with a Mokibo Keyboard Protective Smart Cover.**
• The Full sized Pantograph Keyboard with a World Largest Touchpad.
• Muli-OS support. Windows, Android, MacOS, iOS, and iPadOS.
• 10 language layouts.
• Pair up to 3 Bluetooth Devices at the same time.
• Extremely Portable. 7.5mm ultra-thin and 250g ultralight.
• Rechargeable Battery.
Notable Features: 
Keyboard + Mouse
80 touch sensors hidden on the keyboard instantly turn your keyboard into a large touch-pad. You can move and click the mouse like a touch-pad on a regular laptop.
Scroll
If you slide up and down with two fingers, it works as the mouse's scroll function. You can quickly navigate to any Internet browser or document.
Zoom In / Out
You can pinch or un-pinch with two fingers to zoom in or out of your Internet browser, document, or pictures.
Panto-graph Keyboard
The Panto-graph keyboard is thin and tactile and is widely used on laptops. Quick typing is possible and reduces finger fatigue.
Pair up to 3 Bluetooth Devices
Pair up to 3 Bluetooth devices at the same time and easily switch between the paired devices. The paired Bluetooth channel is indicated by the color of the LED indicator in the middle of the click bar.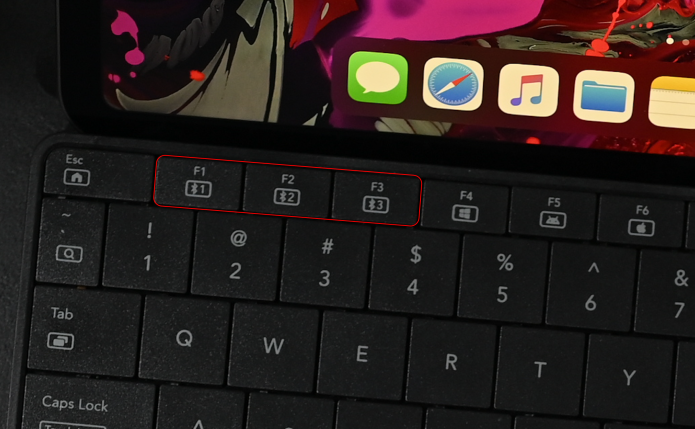 Support Windows, Android, Mac, iPhone, and iPad.
You can select the keyboard layout for the connected devices among Windows, Android, or Apple. The layout is auto-saved if it once selected and there is no need to set up every time unless the device is changed. For iPhone and iPad, both the keyboard and the touch-pad of the Mokibo would work for the iOS13 and iPadOS13 which will be released in this fall.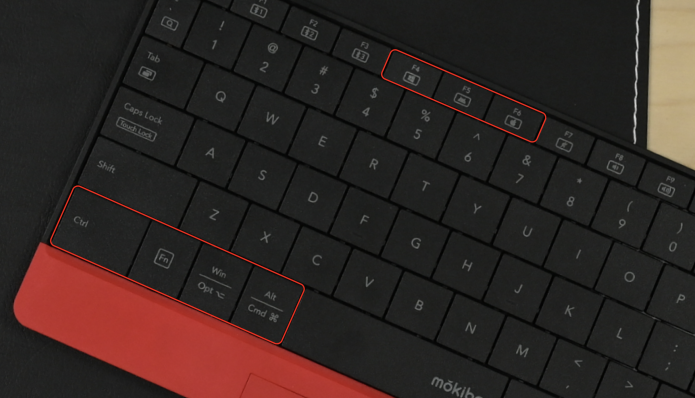 Ultra-portable | Thin and Light
Mokibo is designed as a portable device. The Mokibo body is made of high-grade aluminum, which makes it thinner, lighter and more beautiful. With a thickness of 7.5mm and a weight of only 245g, the portability is maximized.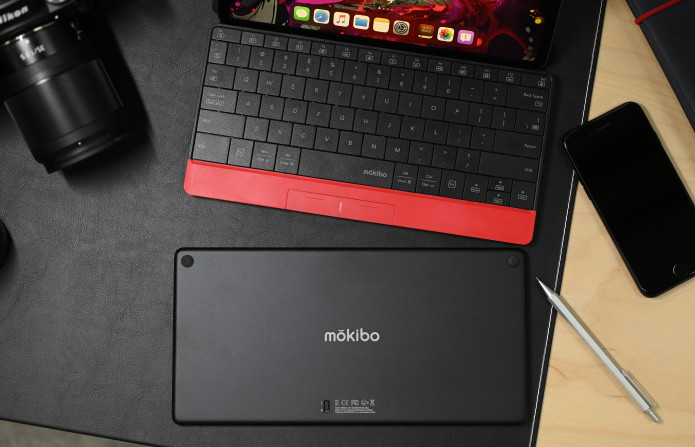 For more information regarding the keyboard (including specifications), please look through the images provided.
Smart Cover
The Smart Cover will protect the Mokibo from light scratches and light impact. It can also be used as a tablet PC stand. It can also be used to tilt the Mokibo.